Arguing with the Storm: Stories by Yiddish Women Writers
Publisher Sumach Press (2007)
ISBN 9781894549639
This stunning collection of fourteen translated stories represents an outstanding contribution to the Yiddish renaissance that has been gaining momentum since the 1980s. The title Arguing with the Stormcomes from a poem by Yiddish author Rachel Korn in which the speaker's mother argues with a hailstorm that threatens to lay waste her fields. Although the poem was published before the Second World War, the impending storm can be seen as a metaphor prefiguring the Holocaust and the destruction from which so few were successfully hidden. The mother's defiant argument, however, remains a paradigm of courage and resistance. The prayers and tirades, humour and rage, compassion and wisdom expressed in this collection offer readers a window onto the complexities of the lives portrayed.
The project began with the Winnipeg Yiddish Women's Reading Circle, a group dedicated to rediscovering the lost heritage of women's writing in Yiddish. Tregebov worked with a group of talented translators and readers from the Reading Circle to gather many of the stories that are the core of this important collection of stories and memoirs. Selected for their inclusive vision, the stories range across time and geography, from Sarah Hamer-Jacklyn's comic shtetl tale, "No More Rabbi!"; and Frume Halpern's sharp psychological satire in "Good-Bye Honey," to Paula Frankel-Zaltzman's heartrending memoir of caring for her invalid father in the Dvinsk ghetto during the Nazi occupation. Although as many as eight of the contributors have now passed away, they have left behind voices that ring true to the wit, humour, satire and compassion of yiddishkayt (Yiddish culture) as well as its tragedy.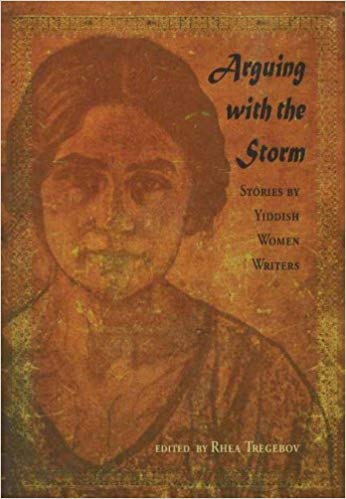 Editor and co-translator. Introduction by Kathryn Hellerstein
The Feminist Press CUNY, 2008.  ISBN: 155861558X
The American edition of Arguing with the Storm includes an informative and insightful  introduction by Kathryn Hellerstein, associate professor of Germanic languages and the Undergraduate Director of the Jewish Studies Program at the University of Pennsylvania.
"These brave women of a century and more ago left us thinly disguised stories and actual memoir of the cruel times in which they lived. The result is . . . immensely readable."
---
Arguing with the Storm: Stories by Yiddish Women Writers
2019-07-16T15:44:45-07:00
https://rheatregebov.ca/testimonials/4629/
"Each story shines. Relations with parents, siblings, lovers, the environs, the society, are all explored."
---
Arguing with the Storm: Stories by Yiddish Women Writers
2019-07-16T15:48:43-07:00
"Each story shines. Relations with parents, siblings, lovers, the environs, the society, are all explored."
https://rheatregebov.ca/testimonials/4633/
"What makes these [stories] so surprising . . . is not their foreignness but the emotional depths that resonate so profoundly . . . each [story] presents a kind of homespun clarity, a sophistication that comes not from cosmopolitanism but from the ability to accept a flawed but vitally alive world . . . these stories are charming and remarkably compelling. . . . The authors were unafraid to shine their lanterns into the dark corners of their own world, and the result is heartrending. This valuable collection is worth reading for its literary merit alone. But with so much of the vast Yiddish culture already lost to us, these stories are also valuable for their sociological insights into Jewish life of a not-so-distant era."
---
Arguing with the Storm: Stories by Yiddish Women Writers
2019-07-16T15:49:02-07:00
Melanie Weiss, Lilith Magazine
"What makes these [stories] so surprising . . . is not their foreignness but the emotional depths that resonate so profoundly . . . each [story] presents a kind of homespun clarity, a sophistication that comes not from cosmopolitanism but from the ability to accept a flawed but vitally alive world . . . these stories are charming and remarkably compelling. . . . The authors were unafraid to shine their lanterns into the dark corners of their own world, and the result is heartrending. This valuable collection is worth reading for its literary merit alone. But with so much of the vast Yiddish culture already lost to us, these stories are also valuable for their sociological insights into Jewish life of a not-so-distant era."
https://rheatregebov.ca/testimonials/4634/
"From the tale of a grandmother who finds work in a munitions factory, to a memoir of the Dvinsk ghetto, to a love-story in a suburban old-age home, these affecting stories offer sometimes searing, sometimes touching glimpses into a swiftly disappearing mental landscape . . . and the lost world from which it comes."
---
Arguing with the Storm: Stories by Yiddish Women Writers
2019-07-16T15:49:31-07:00
"From the tale of a grandmother who finds work in a munitions factory, to a memoir of the Dvinsk ghetto, to a love-story in a suburban old-age home, these affecting stories offer sometimes searing, sometimes touching glimpses into a swiftly disappearing mental landscape . . . and the lost world from which it comes."
https://rheatregebov.ca/testimonials/4635/
"This collection not only adds to the body of work of writers already in translation . . . but also further expands the Yiddish canon with translation of four artists never before read in English. . . . What they all reflect collectively is women artists' passionate engagement with their Jewish communities and history. The stories and memoir depict revolution, gender and class conflict, acculturation . . . and Holocaust and post-Holocaust experiences."
---
Arguing with the Storm: Stories by Yiddish Women Writers
2019-07-16T15:49:50-07:00
"This collection not only adds to the body of work of writers already in translation . . . but also further expands the Yiddish canon with translation of four artists never before read in English. . . . What they all reflect collectively is women artists' passionate engagement with their Jewish communities and history. The stories and memoir depict revolution, gender and class conflict, acculturation . . . and Holocaust and post-Holocaust experiences."
https://rheatregebov.ca/testimonials/4636/
"Since the 1980s there has been a concerted worldwide effort to revive the Yiddish language and its vast literary legacy. This Winnipeg inspired anthology is certain to add to that renaissance."
---
Arguing with the Storm: Stories by Yiddish Women Writers
2019-07-16T15:50:11-07:00
Sharon Chisvin, Winnipeg Free Press
"Since the 1980s there has been a concerted worldwide effort to revive the Yiddish language and its vast literary legacy. This Winnipeg inspired anthology is certain to add to that renaissance."
https://rheatregebov.ca/testimonials/4637/
"Arguing with the Storm is clearly a labour of love, a grassroots literary undertaking with broad literary appeal."
---
Arguing with the Storm: Stories by Yiddish Women Writers
2019-07-16T15:50:22-07:00
Norman Ravvin, The Canadian Jewish News
"Arguing with the Storm is clearly a labour of love, a grassroots literary undertaking with broad literary appeal."
https://rheatregebov.ca/testimonials/4638/
0
Arguing with the Storm: Stories by Yiddish Women Writers
Bryna Bercovitch Born: Cherson, Ukraine, August 13, 1894 Immigrated to Montreal: 1926 Died: Montreal, April 27, 1956   The youngest of seven children, Bryna Avrutick (later Bercovitch) grew up in …
Readings by members of the Winnipeg Yiddish Women's Reading Circle (recorded in 2011). The Winnipeg Yiddish Women's Reading Circle meets monthly in order to read, hear, and discuss stories and …
Winnipeg Yiddish Women's Reading Circle (Canada) Received: spring 2006; last updated: summer 2008   Brief description:This report describes the activities of the Winnipeg Yiddish Women's Reading Circle, a reading group …